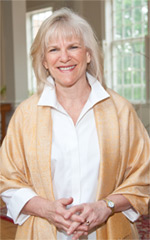 After 12 years as Music Director, Marlene has announced her departure from that role at the end of this season. She plans to pursue bucket list items and spoil her new granddaughter. Please join us for our final concert with Marlene on May 1, 2022 at 3:00 at Wayzata Central Middle School!
Marlene Pauley performed as clarinetist with the St. Paul Chamber Orchestra for 25 years. In 1999, she was invited to create and conduct a series of concerts for the SPCO's nationally recognized CONNECT Education program. The success of those concerts led to reengagement and an offer to conduct the orchestra's Family Concert Series. By 2002 it became their best selling series. Innovative programming and commanding stage presence have made her a favorite on both sides of the podium.
This past summer, Pauley conducted the showcase concert for the Young Artist World Piano Festival and was guest conductor for the Lakes Area Chamber Orchestra Festival. Pauley has conducted concerts for Rochester (NY) Philharmonic, Naples Philharmonic, Grand Teton Music Festival (Jackson Hole, WY), Virginia Arts Festival and for the Pro Musica Series in Kansas City. In 2007, Pauley conducted the premiere of Pocahontas, an opera written to commemorate the 400th anniversary of the founding of Jamestown.
After receiving a Bachelor's degree in music from St. Olaf College and master's degree from Michigan State University, Pauley toured with the American Wind Symphony Orchestra as clarinet soloist and assistant conductor. At the invitation of Prime Minister Edward Seaga, she established and was conductor of the National Youth Orchestra of Jamaica. In 1982, she began playing with the Saint Paul Chamber Orchestra. In addition to playing clarinet in the orchestra, Pauley appeared as soloist and as frequent performer on the SPCO's Chamber Music Series.
As clarinet soloist and clinician, Pauley has presented recitals and master classes throughout the country and premiered works by Libby Larsen, Henk Badings, William Wallace, Daniel Kallman and Gregory Sanders. She has performed and recorded with the Minnesota Orchestra and has been principal clarinetist of Minnesota Opera Orchestra. Her performances have been heard on many NPR broadcasts. Marlene has held faculty positions at Crane School of Music, Arkansas State University, Jamaica School of Music and the College of St. Benedict. Pauley has served as Artistic Director of Greater Twin Cities Youth Symphonies (GTCYS) and is founder and conductor of the Halama Wind Octet.
During the summer months Pauley performs at the Grand Teton Music Festival and dreams of climbing the Grand Teton again. She and her husband, Glen, have a daughter, Elsa.