A Perfect Fit!
In 2010, Marlene Pauley became the first Music Director of the Wayzata Symphony Orchestra. Chosen from a field of guest conductors the orchestra auditioned in its inaugural season, the WSO selected Pauley for her professionalism, her talents on the podium, and her ability to communicate with the audience and orchestra. There seemed to be an undeniable connection from her as well: "From the first few moments on the podium, I had the feeling I was standing before a unique and wonderful group of people. There was joy and palpable energy, and a dedication to making the music speak that I had not felt from other orchestras."
For Pauley, the WSO came with a roster full of solid musicians, a "home" at the Wayzata Community Church for rehearsals and concerts, and a list of followers who not only attended each concert, but also contributed financially to the orchestra. The orchestra had bonded together to form a community, they had completed the necessary organizational work, and what it needed most was the right person to lead them from the podium and provide amazing creative direction. Pauley agreed: "It was the right time to be more than a freelance conductor. It was time to explore my abilities to wield more responsibility and to shape a longer, broader vision."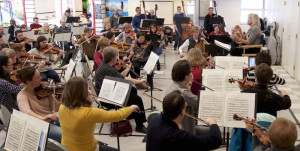 Since being selected as Music Director, Pauley has consistently put together seasons filled with music to challenge both the orchestra members and its loyal and growing audience. Her aim is to educate the music lovers as well as entertain them. In addition to programming "crowd favorites," Pauley also introduces new works by familiar composers and from relatively unknown composers.
Pauley's vision for the Wayzata Symphony Orchestra is ever changing. From programming new music, to seeking additional performance venues, to finding new talent to showcase in front of the orchestra – together as partners – Pauley and the WSO will always be sharing something new with their audience.

Pauley sums it up: "The human need for music is understood. Whatever age or situation, we seem compelled by the call of music's rhythm and melodies. For those of us fortunate enough to play in an orchestra, the making of music is what we treasure and the deeper our involvement, the more irresistible its mysterious pull becomes. It's about working together to be better than you could be alone. It's about the growth that comes from the independent and interdependent work of putting it all together."