Marlene's Musings
October 26, 2015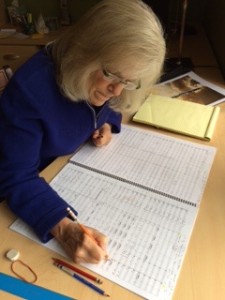 It is a humbling thing to hold a score in my hands for the first time. I know it sounds a little crazy but it is somewhat akin to holding our newborn daughter for the first time. I am filled with awe of the creation but also aware of the daunting responsibility of shepherding it forward. My job, as conductor, is to try and understand, through careful study, what the composer intended. As a mother I tried to honor my daughter's a priori intent as a human being without imposing too much of myself. A lofty goal, indeed! The ironic thing is that you cannot possibly hope to give life to the composition unless you put your heart and soul into it.
On any given page there are hundreds of details to figure out – transpositions, harmonies, phrase structures, dynamic balances, articulation nuances, rhythmic intricacies. You tear it all down for your own understanding and then put it back together for the full effect. After all that, it really does become a part of you. So, when the time comes to lift the print off the page, you really hope you are honoring the composer's truest "self."
This concert is exciting because we will perform three pieces, all written within the last 10 years.
Imagine If You Will …. by Timothy Mahr (professor of composition and band director at St. Olaf College)
Grand Organ Concerto by Stephen Paulus
Clarinet Concerto by Spanish composer, Oscar Navarro
All are accessible and thrilling to experience on both sides of the podium and if you ask, I'll be happy to put any or all of the scores in your hands.
https://thewso.org/wp-content/uploads/2015/05/wayzata-symphony-orchestra-mainLogo.png
0
0
Melissa Kalal
https://thewso.org/wp-content/uploads/2015/05/wayzata-symphony-orchestra-mainLogo.png
Melissa Kalal
2015-10-26 20:05:07
2015-10-26 20:05:48
I Hold In My Hands...
Marlene's Musings
September 1, 2015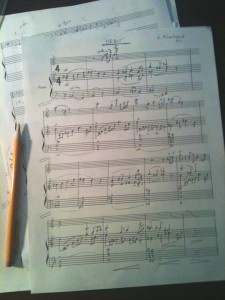 On October 11, the WSO will be performing Orbit: A Symphonic Fantasy by Karim Elmahmoudi.  I found out about Karim and this piece from the cover story of The International Musician. Anyone who makes the cover of that magazine is either a big shot or a unique, rising star in the music business. On a whim, I called to see if I could convince him to come here as our visiting composer. I knew I had a 50-50 chance he'd say "yes."
Karim's music has been performed all over the world, including Carnegie Hall, Disney Hall in L.A., and London's Zankel Hall. He has received many awards for his classical music, film scores and video games. Currently, Orbit is played hourly at the California Space Center – permanent home of the Space Shuttle Endeavor. Over three million people have already heard his composition.
While Karim is in the Twin Cities, we have scheduled for him to make presentations at local high schools and colleges. His journey to being a composer is really fascinating!  He was an aerospace engineering student before becoming a composer and, as you might imagine, has a keen interest in the links between science and music. He is a pilot, a certified Coast Guard skipper, a scuba diver and a trombone player!  His inspiring story will encourage young people to follow their dreams in whatever arena they choose.
Please join us on October 11 at 3:00 at Wayzata Community Church for this free performance!

"The overall felling I attempted to capture with this piece is one of vigorous heroism, evocative lyricism, and spirited adventure. The work is suggestive of this quote from Mark Twain: 'Sail away from the safe harbor. Catch the trade winds in your sails. Explore. Dream. Discover.'" – Karim Elmahmoudi
https://thewso.org/wp-content/uploads/2015/05/wayzata-symphony-orchestra-mainLogo.png
0
0
Melissa Kalal
https://thewso.org/wp-content/uploads/2015/05/wayzata-symphony-orchestra-mainLogo.png
Melissa Kalal
2015-09-01 21:33:17
2015-09-01 21:33:17
Out of This World!
Marlene's Musings
July 5, 2015
The WSO has so much in store for the 2015 – 16 season: A world premiere, a composer in residence, well-known soloists and as always, we perform works from the standard repertoire as well as unfamiliar, fabulous creations.

October 11, 2015: Adam Kuenzel and Orbit: A Symphonic Fantasy
Guest Artist: Adam Kuenzel, Principal Flute, MN Orch
Pre-concert talk with composer Karim Elmahmoudi: 2:00
Concert: 3:00 Wayzata Community Church

November 22, 2015: Minnesota's Own
Guest Composer: Timothy Mahr
Guest Artist: Diana Lee Lucker, Organ
WSO Concerto Competition winner: Tori Okwabi, Clarinet
3:00 Wayzata Community Church

February 14 and February 21, 2016: Twist of Tango
Guest Artist: Patrick Harison, Accordion and Bandoneon
Feb 14: 3:00 Wayzata Community Church
Feb 21: 3:00 St. Andrew's Lutheran Church Mahtomedi

May 1 and May 7, 2016: Maria Sings Maria
Guest Artist: Maria Jette, Soprano
May 1: 3:00 Wayzata Community Church
May 7: 7:30 Trinity Lutheran Church Stillwater
All of our concerts are free and open to the public with no ticket required. I hope to see you at any or all of our exciting programs!
https://thewso.org/wp-content/uploads/2015/05/wayzata-symphony-orchestra-mainLogo.png
0
0
Melissa Kalal
https://thewso.org/wp-content/uploads/2015/05/wayzata-symphony-orchestra-mainLogo.png
Melissa Kalal
2015-07-05 20:29:06
2015-12-08 17:36:45
2015-16 Season Preview: Climbing Higher