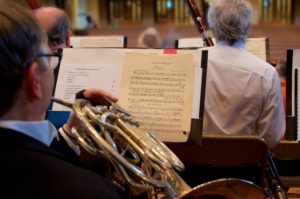 One of the great things about the Wayzata Symphony Orchestra (WSO), besides its outstanding musical offerings, is the orchestra membership and the leadership they provide. Coming from a variety of backgrounds, WSO members volunteer their time and talents to create a financially sound and well-managed organization.
The WSO Board of Directors sets policy and guidelines for the organization, fulfills state and government filings, maintains the financial records, schedules all rehearsal and concert venues, secures guest artists, and reports to the orchestra membership at its annual meeting.
The following individuals will serve on the WSO Board for its 2017-18 season:
Officers:
Dawn Anderson, President, Viola
Michael Okwabi, President-Elect, Trombone
Joanne Turner, Secretary, Harp
Jessica Nelson, Treasurer, Bassoon
Dawn Alitz, Past President, Oboe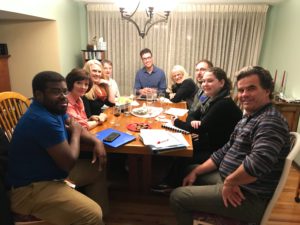 Directors:
Miriam Dennis, Trumpet
Dagne Gustafson, Director, Cello
Kathleen Murphy, Director, Violin
Director at Large:
Doug Schmitt, Director at Large, VP – Schmitt Music
Reporting to the Board of Directors are the Music Director, Concert Master, Executive Director, Music Librarian, Publicity Director and Personnel Manager.

Marlene Pauley is the WSO's music director. Her most obvious responsibility is to artistically guide the WSO and work with the programming committee to select the repertoire for each performance. Marlene works with the librarian to locate and obtain all the necessary music for each concert. As the "face" of the WSO, she also speaks on behalf of the orchestra to the media and other community organizations as needed. Click here to read more about Marlene. Click here to read her blog, Marlene's Musings.

Marion Judish serves as concertmaster of the WSO, coaching the string section through exquisite lows and thrilling highs! She received her Bachelor of Music Degree at the University of Colorado Music School, and earned her Masters of Music and Doctoral of Music Degrees at the University of Minnesota's School of Music. Her post-graduate work at the Juilliard School of Music in New York specialized in Chamber Music. Marion is a professor of violin and viola at St. Cloud State University.

Simon Sperl joined the WSO as executive director in August 2017. As a composer and string bass player, music has always been central to his life. After graduating from Saint John's University with a major in Music Composition, Simon volunteered in East Africa in a number of different roles: from teaching English and working with orphans to fundraising and community organizing. Once he returned to Minnesota, he continued to build upon his experiences by working in a number of Twin Cities nonprofits – most notably as the Director of Corporate and Foundation Relations at the Boys & Girls Clubs of the Twin Cities. Simon enthusiastically accepted the position of Executive Director as a way to link his experience in the nonprofit community with his passion for music.
The WSO's production manager is Paul Humiston, who also serves as the principal bassoonist. He manages all aspects of our concert venues, including stage logistics and equipment rental. His role includes a lot of communication organization, and requires exceptional project management skills. Thankfully, Paul is a stickler for those critical details that make the WSO's concerts run like a well-oiled machine.

The orchestra is lucky to have Eri Isomura (percussion) as its music librarian. She works with Marlene to ensure the correct music is ordered or rented, and once the music has arrived she distributes it to the musicians, collects it at the end of the performance and returns the music as needed. Parts are cleaned up, marked with correct numberings, recorded, collected,  counted, and finally returned exactly as they were received. Eri also maintains a cataloged library of music and concert programs for the orchestra.

Every organization needs a people manager – someone who gives them all the necessary information, tells them where to be and when, and makes sure everyone follows the rules. WSO's personnel manager, Courtney Semke (viola), covers all these tasks. More precisely, she distributes rehearsal and concert schedules, maintains a full roster of regular and auxiliary members, schedules auditions, oversees rehearsal and concert stage set up, coordinates with national music organizations and the local musicians union, and makes sure that everyone is in the right seat at the right time playing the right music.
Each member of the Wayzata Symphony Orchestra is a valuable part of the organization. The WSO appreciates those that are able to contribute outside of their role as a musician to make the orchestra a better organization.
To contact the WSO, email us at info@thewso.org.