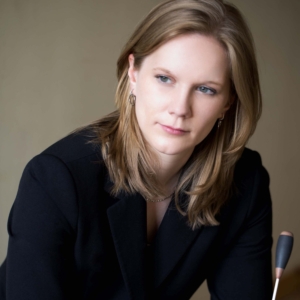 Hannah Schendel has established herself as a brilliant and collaborative young conductor. Schendel was recently named Music Director of the Wayzata Symphony Orchestra and Visiting Director of Orchestra at Carleton College.
Schendel studied at the University of Cincinnati College-Conservatory of Music (CCM) under the mentorship of Mark Gibson, where she recently completed coursework for the Doctor of Musical Arts Degree in Orchestral Conducting. Highlights at CCM include performances of Ecstatic Orange by Michael Torke, Violin Concerto in D Major by Stravinsky, Symphony No. 2 by Rachmaninoff, and a live-streamed performance of Symphony No. 3 by Louise Farrenc. Schendel served as Assistant Conductor for the CCM premiere of Gregory Spears' renowned American opera, Fellow Travelers (2016), conducting the final performance in April 2023; and was invited to guest conduct several concerti with the Cincinnati Starling Project.
Schendel recently competed in the Lake Como International Conducting Competition and the Erich Bergel International Conducting Competition, served as cover conductor for Britten's A Midsummer Night's Dream at the Miami Music Festival, and participated in the Allegra Music Festival Masterclass led by Johannes Schlaefli in Sofia, Bulgaria. In 2023, she attended the Cabrillo Festival for Contemporary Music led by Cristian Macelaru.
Schendel's guest conducting appearances include the Brevard Philharmonic and the Bemidji Symphony Orchestra, and she was chosen by Diane Wittry to be a Conducting Fellow with the Allentown Symphony during the 2018-2019 season.
Schendel holds a Master's degree in Orchestral Conducting from the University of South Carolina, and a Bachelor of Arts degree in Music from the University of Minnesota.