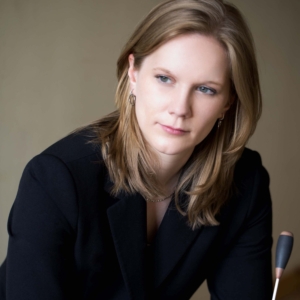 Music Director, Hannah Schendel
August 30, 2023
I am so excited and honored to be named the new Music Director of the Wayzata Symphony. Through weathering the pandemic and embarking on a yearlong search for its next conductor, the members of the WSO have blown me away with their dedication both to the organization and to creating music at a high level. Highlights this season include three symphonies, pieces by female composers on every concert, a variety of pieces composed by diverse living composers, and the much-anticipated return of Anthony Ross (Principal Cello – Minnesota Orchestra). There will be something for everyone to enjoy!
The first concert is centered around the theme of celebration; celebrating both a new chapter in the WSO legacy and the joy that we all feel in coming together to make something beautiful. The second concert is comprised entirely of 19th century French music which features Edouard Lalo's emotional Cello Concerto in D Minor, bookended by two ballet suites. Our third concert is thought provoking, and will challenge us to consider the sometimes subtle nuances between fate and destiny. Just as painters carefully choose their color palette, so too will we explore dark and light shades of sound in our fourth and final concert of the season.
Each and every one of these concerts has something unique to offer. The WSO is a hidden gem, presenting exceptionally high-quality and meaningful performances. Please help us to expand the impact we seek to make both musically and in our community by supporting us financially with your tax-deductible donation.
I can't wait to see you at our concerts this season!
Sincerely,
https://thewso.org/wp-content/uploads/2015/05/wayzata-symphony-orchestra-mainLogo.png
0
0
Melissa Kalal
https://thewso.org/wp-content/uploads/2015/05/wayzata-symphony-orchestra-mainLogo.png
Melissa Kalal
2023-08-30 08:33:09
2023-08-30 14:00:22
2023-2024 Season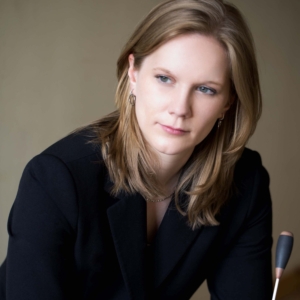 Guest Conductor Notes
Hannah Schendel
April 22, 2023
I'm looking forward to conducting the Wayzata Symphony Orchestra on May 7 as we celebrate and explore the vibrant cultures, people and natural beauty of America.
The program opens with Starburst, a vivid and energetic piece composed by Jessie Montgomery. Montgomery's individual compositional style reflects her upbringing in Manhattan's Lower East Side, an area which is infamous for its multiculturalism within New York City. Montgomery describes Starburst as "a play on imagery of rapidly changing musical colors. Exploding gestures are juxtaposed with gentle fleeting melodies in an attempt to create a multidimensional soundscape. A common definition of a starburst: "the rapid formation of large numbers of new stars in a galaxy at a rate high enough to alter the structure of the galaxy significantly" lends itself almost literally to the nature of the performing ensemble who premiered the work, The Sphinx Virtuosi, and I wrote the piece with their dynamic in mind."
This is followed by The Overture to the Song of Hiawatha, by British composer and conductor, Samuel Coleridge-Taylor. The Overture introduces a trilogy of cantatas based on Henry Wadsworth Longfellow's 1855 epic poem, The Song of Hiawatha. The poem, which was inspired by Longfellow's close friendship with an Ojibwe Chief, narrates the fictional tragic love story of Hiawatha, an Ojibwe man, and Minnehaha, a Dakota woman. Many names and locations mentioned within the poem are familiar to Minnesota audiences. Coleridge-Taylor's three cantatas were an immediate success with British audiences and were performed annually at the Royal Albert Hall for many years. The pieces were such a success that Coleridge-Taylor named his son, Hiawatha.
Finally, we hear Symphony No. 9 in E Minor, "From the New World" by Czech composer Antonín Dvořák. Dvořák briefly lived in the United States where he resided in New York City and Spillville, Iowa. During these years he was inspired by African American spirituals, jazz, Native American culture, Longfellow's Song of Hiawatha, and the beauty of the expansive plains of central America. In this symphony, Dvorak sought to pave a way forward for the future of American symphonic music by synthesizing these American influences with his own Bohemian rhythms and harmonic language.
https://thewso.org/wp-content/uploads/2015/05/wayzata-symphony-orchestra-mainLogo.png
0
0
Melissa Kalal
https://thewso.org/wp-content/uploads/2015/05/wayzata-symphony-orchestra-mainLogo.png
Melissa Kalal
2023-04-22 07:39:35
2023-04-22 07:39:35
Impressions of America
Guest Conductor Notes
Richard Haglund
February 12, 2023
In putting together this program, I chose the Hebrides Overture, Scottish Fantasy, and Four Scottish Dances as musical works all inspired by the landscapes, folklore, and cultural heritage of Scotland. These works are examples of the Romantic era's interest in folk music, nature, and the exotic, and they showcase the composers' fascination with Scotland's unique and captivating character. As a fan of American composers, I programmed Barber's Second Essay for orchestra as a nice divertimento to this Scottish themed program.
I last performed with our soloist, Dr. Ariana Kim, in 1998 when she was quite young! Noted by The New York Times for giving "the proceedings an invaluable central thread of integrity and stylishness" and having "played with soulful flair," violinist Ariana Kim made her New York recital debut at Carnegie's Weill Hall during her graduate studies at Juilliard and is now a tenured professor at Cornell University. We are so fortunate to have her share her talents with us on this program.
"Excited" is the only word that comes to mind to return to this stage in Wayzata where I student taught (quite a few years ago). Looking thru the roster I know several of the performers but many are new to me and I look forward to getting to know them both on and off the stage in this exciting program that showcases the WSO in many different ways.
https://thewso.org/wp-content/uploads/2015/05/wayzata-symphony-orchestra-mainLogo.png
0
0
Melissa Kalal
https://thewso.org/wp-content/uploads/2015/05/wayzata-symphony-orchestra-mainLogo.png
Melissa Kalal
2023-02-12 07:50:05
2023-04-15 09:10:33
Scottish Fantasy Inspiration