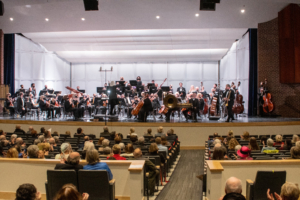 The Wayzata Symphony Orchestra brings together accomplished and passionate musicians to engage the community with enlightening concert presentations. Guided by principles of excellence in performance and organization, members enjoy an environment of fun, trust, honor and exchange.
We envision that:
Outstanding musicians come to the Wayzata Symphony Orchestra for our excellence in performance, organization, and community engagement
Members of our orchestra reach their full potential in an environment of fun, trust, honor and exchange, supported by an organization with strong financial acumen
The community benefits from our forward-thinking and exemplary orchestra.
We uphold the following values:
EXCELLENCE
We come musically prepared.
We are highly organized.
We excel in performance and community engagement.
ACCOUNTABILITY
We take a personal stake in our organization.
We maintain high standards.
We are responsible to each other.
We respect and value our partners.
We are fiscally responsible.
We are transparent to our stakeholders.
TEAMWORK
We treat each other with respect.
We build trust.
We foster collaboration.
We unite for the greater good.
We have high expectations of ourselves and of each other.
We are welcoming and encouraging.
CREATIVITY
We embrace challenge.
We nurture innovation.
We develop the potential of individuals and the whole.
COMMUNITY ENGAGEMENT
We collaborate with other arts organizations.
We make our events accessible to many audiences.
We reach out to the community.
We learn from our friends as much as they learn from us.
We earn the community's respect and confidence.
CELEBRATION
We embody the joy of making music.
We embrace a wide range of music.
We identify individual successes.
We recognize the team behind every individual.
We express our gratitude for the community's support.