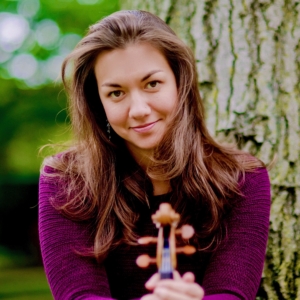 Richard Haglund, Guest Conductor
Ariana Kim, Violin
MENDELSSOHN: Fingal's Cave Overture, Op. 26 (Hebrides)
BARBER: Essay No. 1, Op. 12 (1937)
BRUCH: Scottish Fantasy, Op. 46 for Violin and Orchestra
Ariana Kim, Violin
ARNOLD: Four Scottish Dances, Op. 59 (1957)
Richard Haglund is the founder and Music Director of the Erato Chamber Orchestra in Chicago. As a guest conductor, Haglund has led professional ensembles across the country and around the globe. These include the Camerata Chamber Orchestra in Cluj, Romania, the St. Petersburg Hermitage Orchestra in Russia, the Varna Philharmonic and Gabrovo Chamber Orchestra in Bulgaria, Capella Orchestra in St. Petersburg, Russia and the National Symphony of Moldova in Chişinău. A native of Minnesota, Haglund holds a Bachelor of Music degree from the University of Minnesota and a Masters degree in Orchestral Conducting from the Bard College Conservatory of Music. He is often in demand as a guest conductor, performer and clinician.
Noted by The New York Times for giving "the proceedings an invaluable central thread of integrity and stylishness," violinist Ariana Kim made her New York recital debut at Carnegie's Weill Hall during her graduate doctoral studies at Juilliard and is now a tenured a professor at Cornell University. At 16, Ariana made her debut with the St. Paul Chamber Orchestra and at 24 was appointed acting concertmaster of the Louisiana Philharmonic in New Orleans; she has since become one of the most respected artists of her generation. As a violinist of the Aizuri Quartet she was awarded the 2017 Osaka International Competition Grand Prize, the 2018 M-Prize, and earned a 2019 GRAMMY nomination for the album Blueprinting. During her tenure, the ensemble served as a Quartet-in-Residence at the Metropolitan Museum of Art and presented recitals at Suntory Hall Tokyo, the University of Toronto, the Caramoor Center, National Sawdust, Princeton University, and the Kennedy Center. Recently having returned from a sabbatical year in South Korea, Ariana spent seven months studying the gayageum (an ancient zither-style instrument), performing throughout the country, and serving as a guest professor at Seoul National University. Equally devoted to contemporary and traditional literature, Ariana recently completed a 10-year position with the experimental music septet Ne(x)tworks, and is currently in her 15th season with The Knights. She was appointed co-artistic director of the Chamber Music Society of Minnesota and Paesaggi Musicali Toscani in Siena, Italy in 2019. Her upcoming solo album – exploring improvisation through the lens of Mozart and Beethoven sonatas alongside world folk music – is set for release in the fall of 2023.
Free, no ticket required. Donations gratefully accepted.
Join us for a reception to meet the musicians following the concert.