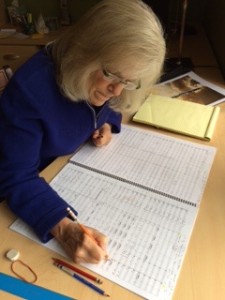 Marlene's Musings
September 12, 2018
I am studying like a fiend, preparing for the first concert of our 10th Anniversary Season.
When I thought about repertoire to celebrate 10 years, I had to include Beethoven Symphony #5. I know it is familiar to everyone and most musicians have played it many times, including me as clarinetist in the SPCO. But, every single time I play or conduct this piece, I just cannot believe the brilliance of Beethoven. I always discover exciting new things. When I was a kid I wondered what all the Beethoven hoopla was about – I preferred Stravinsky, Rachmaninoff and Mozart – but as soon as I played my first Beethoven symphony I was hooked. In all fields, there are iconic figures who catapult us forward into brave new worlds. Beethoven was one of those figures.
His 5th symphony is a remarkable display of ingenious, ground-breaking creativity. I can't wait to show some examples of that at our concert on Oct. 14.
One of my favorite soloists from the past 9 years is Manny Laureano, Principal Trumpet of MN Orchestra. Manny is a spirit-above-ego guy. It's all about the music with Manny and how it connects to community. When I asked him to perform on our opening concert he immediately agreed and even suggested a piece – one he had premiered a couple years ago. Michael Gilbertson's Trumpet Concerto opens with a 3-part trumpet fanfare – showcasing the skills of WSO trumpeters, Ben Alle and Miriam Dennis. The piece is full of beautiful melodies, driving rhythms, intriguing harmonies and lots of challenging technique for the entire ensemble.
Copland's Fanfare for the Common Man is the quintessential American piece – open, welcoming, powerful. It will be a great way to start the season.
And the Grand Finale? I hope you'll be there as we include 100 string students from Wayzata High School and singers of the Edina Chorale to join us in performing the Ode To Joy from Beethoven's 9th Symphony.
Happy Birthday to us!
https://thewso.org/wp-content/uploads/2015/05/wayzata-symphony-orchestra-mainLogo.png
0
0
Melissa Kalal
https://thewso.org/wp-content/uploads/2015/05/wayzata-symphony-orchestra-mainLogo.png
Melissa Kalal
2018-09-12 12:44:40
2018-09-12 12:44:40
An Amazing Season To Come!