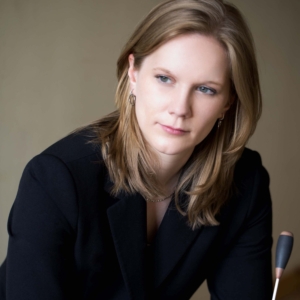 Guest Conductor Notes
Hannah Schendel
April 22, 2023
I'm looking forward to conducting the Wayzata Symphony Orchestra on May 7 as we celebrate and explore the vibrant cultures, people and natural beauty of America.
The program opens with Starburst, a vivid and energetic piece composed by Jessie Montgomery. Montgomery's individual compositional style reflects her upbringing in Manhattan's Lower East Side, an area which is infamous for its multiculturalism within New York City. Montgomery describes Starburst as "a play on imagery of rapidly changing musical colors. Exploding gestures are juxtaposed with gentle fleeting melodies in an attempt to create a multidimensional soundscape. A common definition of a starburst: "the rapid formation of large numbers of new stars in a galaxy at a rate high enough to alter the structure of the galaxy significantly" lends itself almost literally to the nature of the performing ensemble who premiered the work, The Sphinx Virtuosi, and I wrote the piece with their dynamic in mind."
This is followed by The Overture to the Song of Hiawatha, by British composer and conductor, Samuel Coleridge-Taylor. The Overture introduces a trilogy of cantatas based on Henry Wadsworth Longfellow's 1855 epic poem, The Song of Hiawatha. The poem, which was inspired by Longfellow's close friendship with an Ojibwe Chief, narrates the fictional tragic love story of Hiawatha, an Ojibwe man, and Minnehaha, a Dakota woman. Many names and locations mentioned within the poem are familiar to Minnesota audiences. Coleridge-Taylor's three cantatas were an immediate success with British audiences and were performed annually at the Royal Albert Hall for many years. The pieces were such a success that Coleridge-Taylor named his son, Hiawatha.
Finally, we hear Symphony No. 9 in E Minor, "From the New World" by Czech composer Antonín Dvořák. Dvořák briefly lived in the United States where he resided in New York City and Spillville, Iowa. During these years he was inspired by African American spirituals, jazz, Native American culture, Longfellow's Song of Hiawatha, and the beauty of the expansive plains of central America. In this symphony, Dvorak sought to pave a way forward for the future of American symphonic music by synthesizing these American influences with his own Bohemian rhythms and harmonic language.
https://thewso.org/wp-content/uploads/2015/05/wayzata-symphony-orchestra-mainLogo.png
0
0
Melissa Kalal
https://thewso.org/wp-content/uploads/2015/05/wayzata-symphony-orchestra-mainLogo.png
Melissa Kalal
2023-04-22 07:39:35
2023-04-22 07:39:35
Impressions of America