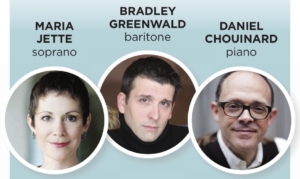 Marlene's Musings
October 7, 2019
What do all these pieces have in common?
Gershwin: Rhapsody in Blue
Kurt Weill/Bertold Brecht: Threepenny Opera
Jerome Kern/Oscar Hammerstein: Showboat
Copland: Symphony No. 1
1. All were written during a 10-year period of great cultural shift in America – between 1919 and 1929
2. All the composers were in their 20s
3. Each of these pieces broke the mold of what had come before
4. All will be performed on October 13 at Wayzata Community Church at 3 pm
Maria Jette, Bradley Greenwald and Daniel Chouinard – all vital threads in the fabric of Twin Cities culture – will sing, act, discuss, play the piano and accordion to illuminate this remarkable time of upheaval in America.
During this 10-year period, the 18th Amendment (prohibition of intoxicating liquors) and the 19th Amendment (right to vote for women) were passed. It was the dawn of radio and jazz was taking hold as America's musical voice.
Please join us on October 13. You will leave smarter than when you arrived, you will be amazed by the creative artistry of our soloists and you will be telling your friends that the WSO is the finest community orchestra in Minnesota! I hope you will be there to take it all in.
Concert is free, parking is free, coffee and treats are free at our meet-and-greet reception.
See you there!
– Marlene
https://thewso.org/wp-content/uploads/2015/05/wayzata-symphony-orchestra-mainLogo.png
0
0
Melissa Kalal
https://thewso.org/wp-content/uploads/2015/05/wayzata-symphony-orchestra-mainLogo.png
Melissa Kalal
2019-10-07 17:48:05
2019-10-07 17:48:05
The Golden Age