Marlene's Musings
November, 2014
Never say Never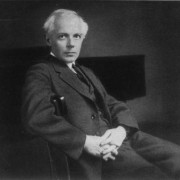 When I was interviewed for this job, I was asked what repertoire I thought the orchestra could perform. I said, "We won't be able to do Bartok, Concerto for Orchestra but there are so many other things we will be able to do." This orchestra has grown so much and committed to such excellence that we are now ready for the Bartok.
Why is it such a difficult piece? Simply put, it is full of music we, as musicians, don't play very often. We were all trained using Western European models – major and minor scales, symmetrical rhythms and phrases. Bartok asks us to go way beyond those perimeters. Yes, he was a huge fan of Bach so there are traditional harmonies in some places AND many fugues and fugatos. He also admired Schoenberg so there are whole-tone, pentatonic and artificial scales. But, most interestingly, Bartok was a great exponent and recorder of folk music. With a primitive Edison cylinder machine Bartok travelled all around Hungary and the surrounding countries, recording and then transcribing thousands of songs. We think of folk music as simple and easily singable but, if you're from Hungary or the Czech Republic, you didn't grow up singing the folk tunes we did. The music Bartok recorded became influential in everything he wrote. Those melodies, rhythms and harmonies were foreign to the Western European ear. BUT folk music of any kind is compelling because it speaks of the human experience. I think that is one of the many reasons why Bartok's Concerto for Orchestra became an instant success.
When this piece was written Bartok felt his composing life was over. In 1943, weighing only 87 pounds, laying in a hospital bed suffering from symptoms of Leukemia which would eventually kill him, he was visited by the great conductor, Koussevitsky. He had been urged to do so by violinist, Joseph Szigeti and conductor, Fritz Reiner. All three icons of music loved Bartok's music and did not want his creativity to end. They offered him a commission to write a work for the Boston Symphony. Initially he said "no" but an envelope with a sizeable down payment was left bedside and needing money desperately, Bartok accepted. Within 7 weeks, he had completed the masterpiece we all know and love.
So, with humility and LOTS of individual practice, we will perform Bartok's Concerto on Nov. 16. I can't wait!
https://thewso.org/wp-content/uploads/2015/05/wayzata-symphony-orchestra-mainLogo.png
0
0
Melissa Kalal
https://thewso.org/wp-content/uploads/2015/05/wayzata-symphony-orchestra-mainLogo.png
Melissa Kalal
2014-11-01 15:07:49
2015-06-12 15:11:28
Never Say Never